Ronald A. Sorokin
Managing Partner
Ron has been the Managing Partner of Witten LLP since 2010. Ron is a commercial solicitor whose practice emphasizes commercial real estate, commercial leasing, acquisitions and financing and business acquisitions. He was admitted to the Alberta bar in 1992 after earning his B.A. (1987) at the University of Toronto and his LL.B. (1991) at the University of Alberta.
Ron has been recognized in the peer-reviewed list, Woodward White's Best Lawyers for the last several years in the areas of real estate law and commercial leasing law. Ron has instructed bar admission courses on commercial and real estate law and presented seminars on commercial leasing for the Legal Education Society of Alberta and to industry. He is a past chair of the CBA Commercial Property and Leasing subsection, and for several years presented case reports and summaries at the CBA meetings. He is also a member of the Canadian Bar Association Business Law subsection. Ron volunteers as Civil Claims Duty Counsel through Pro Bono Law Alberta.
Ron is currently the co-chair of the Edmonton United Jewish Appeal Campaign and a board member of Our Parents' Home Society, and the Dianne and Irv Kipnes Foundation.
Ron has guest lectured on human rights issues for the U of A's Faculty of Law. Ron has served on several community volunteer boards, including terms as President of the Edmonton Talmud Torah School and Peewee Director for the Whitemud West Hockey Association. He also spent several years on the National Executive of the Canadian Jewish Congress. Ron provides ongoing pro bono counsel for several community, educational, and athletic associations and has been involved in several pro bono human rights cases.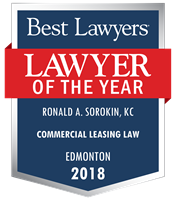 P: 780-441-3231
F: 780-429-2559
Year of Call 1992 Alberta